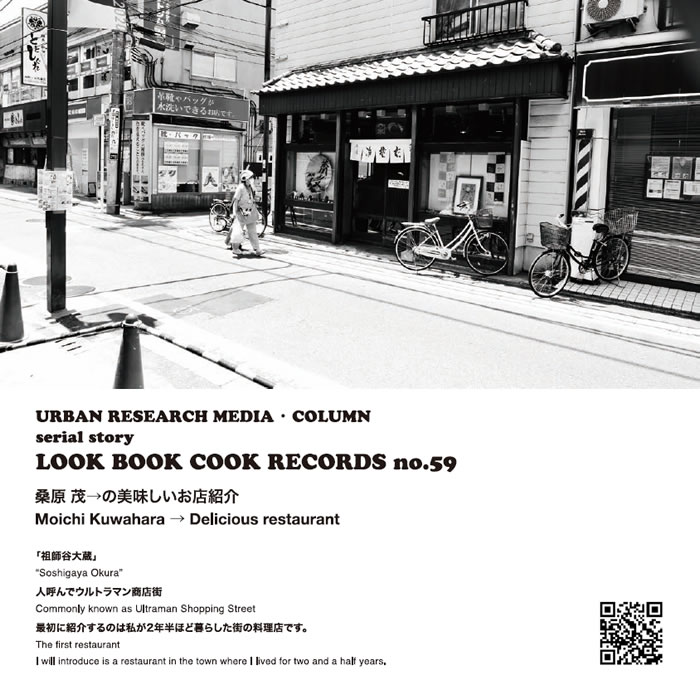 URBAN RESEARCH MEDIA column serial story LOOKBOOKCOOKRECORDS no59
桑原 茂→の美味しいお店紹介
Moichi Kuwahara → Delicious restaurant
「祖師谷大蔵」
"Soshigaya Okura"
人呼んでウルトラマン商店街 
Commonly known as Ultraman Shopping Street
最初に紹介するのは私が2年半ほど暮らした街の料理店です。
The first restaurant
I will introduce is a restaurant in the town where I lived for two and a half years.
---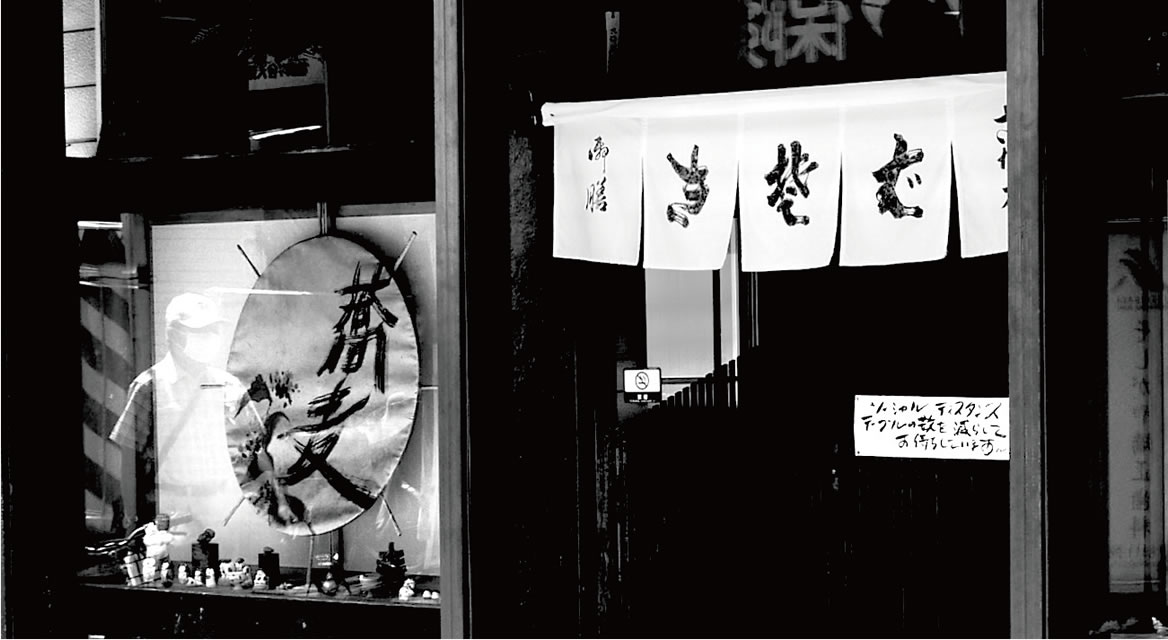 「おそば・さかもと」
"Soba Sakamoto"
この味がParisのサン=ジェルマン=デ=プレ地区で開店したら
大ヒットするのではないか? 
まずお品書きの数に圧倒されます
定番料理の旨さにきっと感嘆の声を洩らすでしょう
If this restaurant opens in the Saint Germain des Prés area of Paris
Maybe it will be talked about as a restaurant that can not make reservation
First of all, I am overwhelmed by the number of dishes
I'm sure you will hear the admiration of the taste of classic dishes
更に旬の素材を扱うセンスにも
驚いたのは、思わぬそばの味。
半年程経ったある日、私は店主にこんな質問を投げかけた
Furthermore, the feeling of handling seasonal ingredients is wonderful
What surprised me was the unexpected taste of buckwheat.
Half a year later, I asked the chef a question
"金曜日を休業する理由は?"
"Why are you closing Friday?"
"金曜日は朝5時から仕込みをやってるんですよ 
土日のお客さんの為にね それでも間に合わない"
すべての時間を犠牲にしてお客に尽くす
On Friday, we will start preparing food at 5am.
For customers visiting on weekends
Even so, we cannot meet the needs of
all customers.
Serve your customers at the expense of all your time
その原動力は 
美味しいもの食べて微笑む
お客の顔を見たいから
真っ当な料理人なら
当たり前のことだろうが 
半世紀ほど暮らしたこの広い東京では
千載一遇 空前絶後
生きてる理由は 誰かを喜ばす為 
この人生の真髄と教訓を 
料理屋で教わった
The driving force is
I want to see the face of a smiling customer
Of course, this is a natural reason for a true chef
In this large Tokyo where I lived for half a century
Close to a miracle
The reason for being alive is to please someone
The essence and lessons of this life
I was taught at a restaurant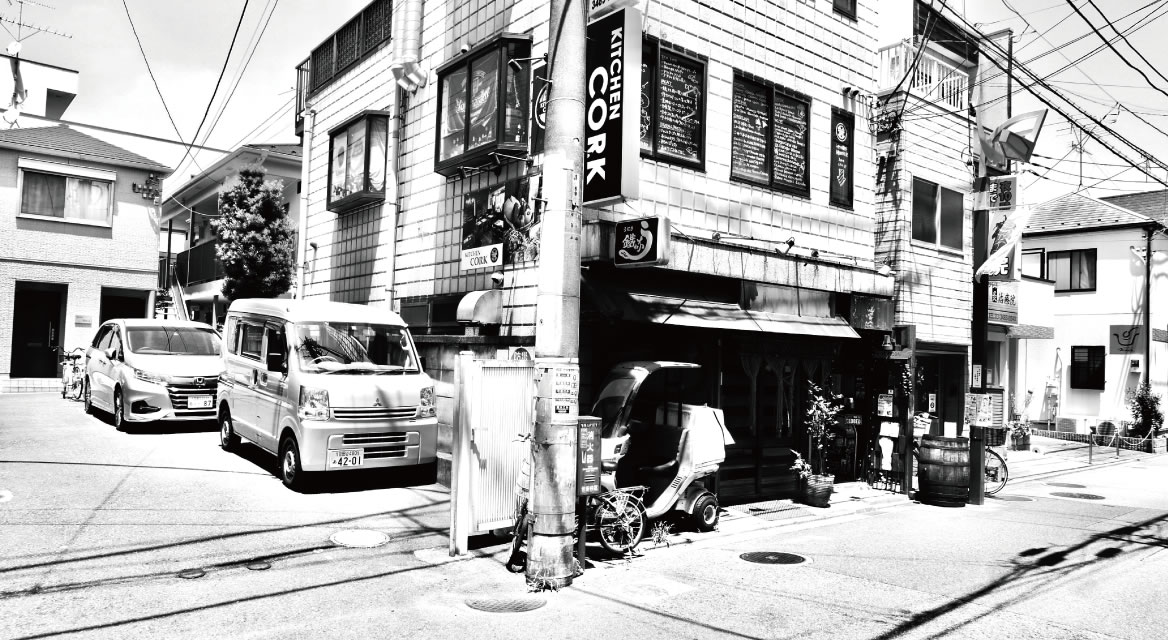 うなぎ 「うな鐵」
ジックリ 眼を凝らしてこの画像を見てください
うなてつ と読みます
一見さんは通り過ぎると思います
Read as Unatetsu
Please look at this image carefully
I think everyone will pass by
でもマジ美味い
試すなら要予約
同じ屋号の別物に注意
私の美味い鰻屋は 
ここ一軒だけ「うな鐡」
But it's really delicious
Reservation required if you try
Be careful of different things with the same shop name
My delicious eel restaurant
There is only one Unagi restaurant here
Only this one is "Una-tetsu"
正直 初めて暖簾をくぐった時は恐る恐るでした
備長炭が爛々と赤々と燃える焼場の前のカウンター席に座り 
初めて食べる串物に舌が反応する
あまりの旨さに汗だくになる
たぶん焼き場前の席だから
To be honest, I was nervous.
Bincho charcoal burns red
I sat at the in front of the grill
Tongue reacts to the first skewer
Sweating too much
Because it's the seat in front of the grill
「うな鐵」
これぞ 庶民の贅沢
月に一度は新渡戸稲造さんと同伴出勤
美味しいは人生を明るくします
因みに店の照明は暗いです
"Una iron"
This is a normal person's luxury
Eat at Nitobe Inazo once a month
Brighten my life
By the way, the lighting in the store is dark.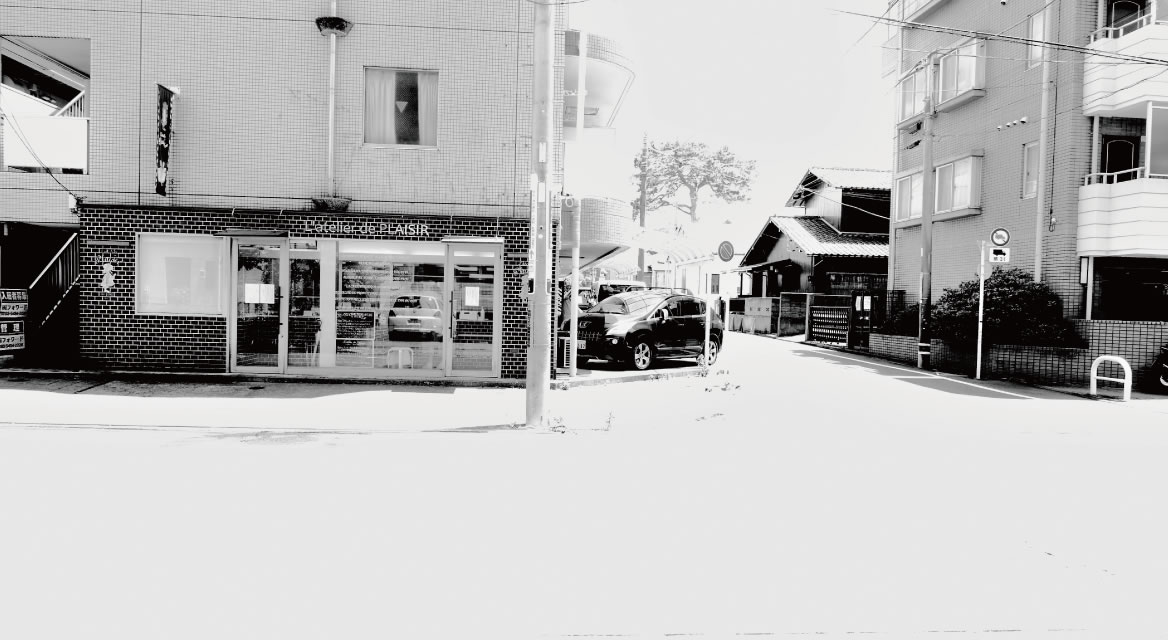 L'atelier de Plaisir bakery 
Eat with your own money and brush your tongue
This bitter advice
Not limited to food
To create style
There is a risk of scraping yourself in search of joy
Everything learns from experience
Only the craftsmen who burn life create joy
No matter how much information you have
Just trash
What turns garbage into gems
Your wisdom and effort
フランス語が美しすぎて
私はいつまでも美味しいパン屋さんの名前が覚えられないのです
French is too beautiful
For some reason I can't remember the name of the bakery
「L'atelier de Plaisir」 bakery
意味を調べてみました
喜びを生むパン屋さん
I looked up the meaning
Bakery that creates joy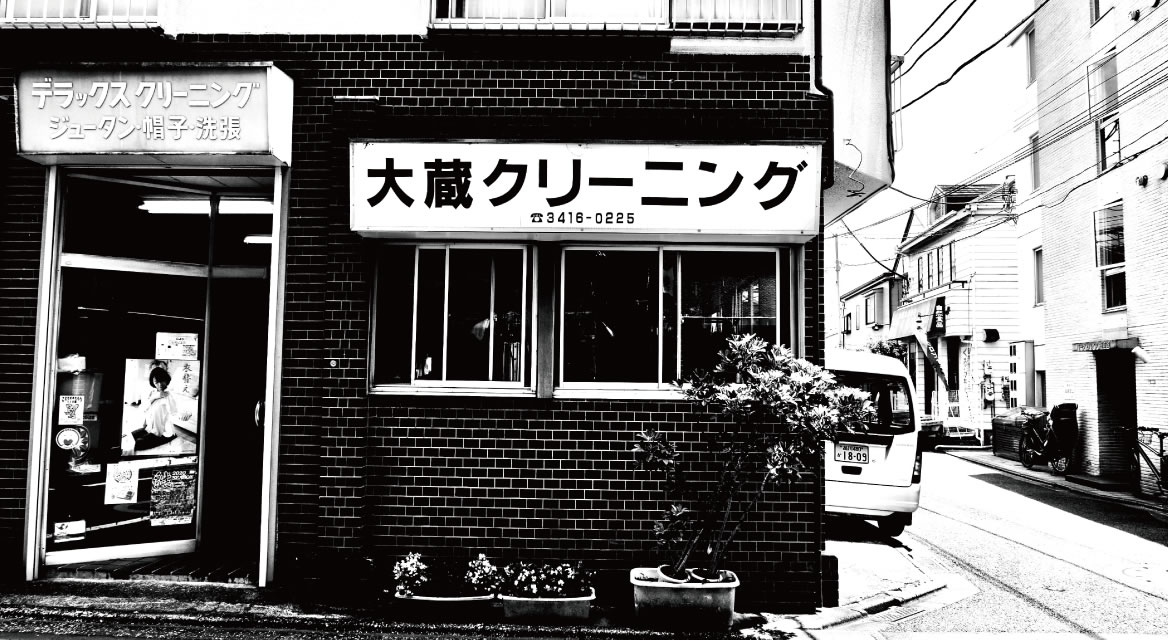 名店 「大蔵クリーニング」
Finally
It's my favorite laundry
store 「Okura cleaning」
さて最後に紹介するのは
祖師谷大蔵が好きな理由のクリーニング屋です
パリ・ロンドン・ニューヨーク
歴史のある町には必ず存在する名店のオーラを
私はこの大蔵クリーニング感じます
つまり自分の仕事を愛する職人・artisan・が店を構えている
自分の仕事に誇りを持って生きている人は
職業にかかわらず存在感が美しいのです
本物の職人が経営するクリーニング店に
自分の大切な洋服を預けることのできることの幸せに気づくのです
Paris, London, New York
There are always famous shops in historical cities
I think this Okura cleaning is a famous store
In other words, it is a shop with a craftsman who loves to work.
Craftsmen who love their work are beautiful people of all types.
For laundry shops run by real craftsmen
I was glad to deposit my important clothes
さて、いかがでしたでしょうか?
私の好きなお店を紹介させて頂きました
Well, how was it?
I introduced my favorite shop
「祖師谷大蔵・SoshigayaOkura」
初代選曲家 桑原 茂→
First generation
Music selector Moichi Kuwahara
---