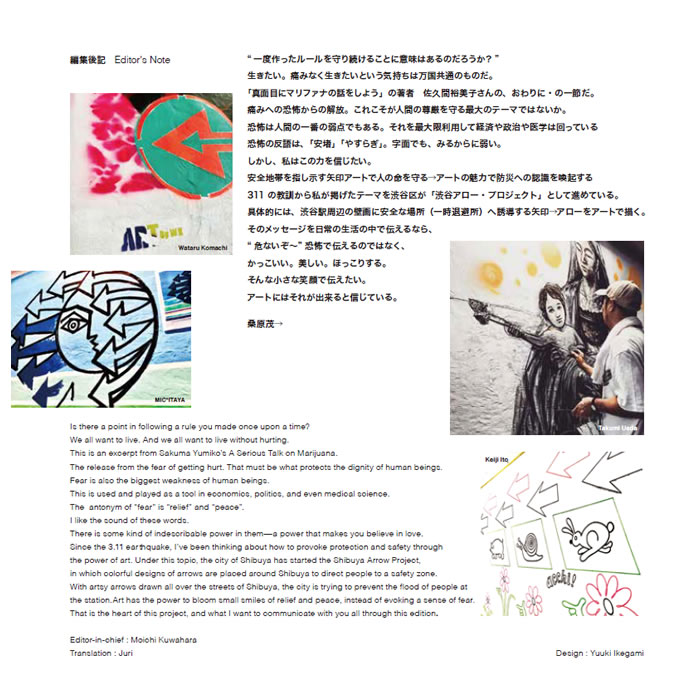 編集後記 Editor's Note
" 一度作ったルールを守り続けることに意味はあるのだろうか? "
生きたい。痛みなく生きたいという気持ちは万国共通のものだ。
「真面目にマリファナの話をしよう」の著者 佐久間裕美子さんの、おわりに・の一節だ。
痛みへの恐怖からの解放。これこそが人間の尊厳を守る最大のテーマではないか。
恐怖は人間の一番の弱点でもある。それを最大限利用して経済や政治や医学は回っている恐怖の反語は、「安堵」「やすらぎ」。字面でも、みるからに弱い。
しかし、私はこの力を信じたい。
安全地帯を指し示す矢印アートで人の命を守る→アートの魅力で防災への認識を喚起する
311 の教訓から私が掲げたテーマを渋谷区が「渋谷アロー・プロジェクト」として進めている。
具体的には、渋谷駅周辺の壁画に安全な場所(一時退避所)へ誘導する矢印→アローをアートで描く。
そのメッセージを日常の生活の中で伝えるなら、" 危ないぞ~" 恐怖で伝えるのではなく、かっこいい。美しい。ほっこりする。
そんな小さな笑顔で伝えたい。
アートにはそれが出来ると信じている。
桑原 茂→
Is there a point in following a rule you made once upon a time?
We all want to live. And we all want to live without hurting.
This is an excerpt from Sakuma Yumiko's A Serious Talk on Marijuana.
The release from the fear of getting hurt. That must be what protects the dignity of human beings.
Fear is also the biggest weakness of human beings.
This is used and played as a tool in economics, politics, and even medical science.
The antonym of "fear" is "relief" and "peace".
I like the sound of these words.
There is some kind of indescribable power in them—a power that makes you believe in love.
Since the 3.11 earthquake, I've been thinking about how to provoke protection and safety through
the power of art. Under this topic, the city of Shibuya has started the Shibuya Arrow Project,
in which colorful designs of arrows are placed around Shibuya to direct people to a safety zone.
With artsy arrows drawn all over the streets of Shibuya, the city is trying to prevent the flood of people at
the station.Art has the power to bloom small smiles of relief and peace, instead of evoking a sense of fear.
That is the heart of this project, and what I want to communicate with you all through this edition.
Editor-in-chief : Moichi Kuwahara
Translation : Juri
Design : Yuuki Ikegami
---