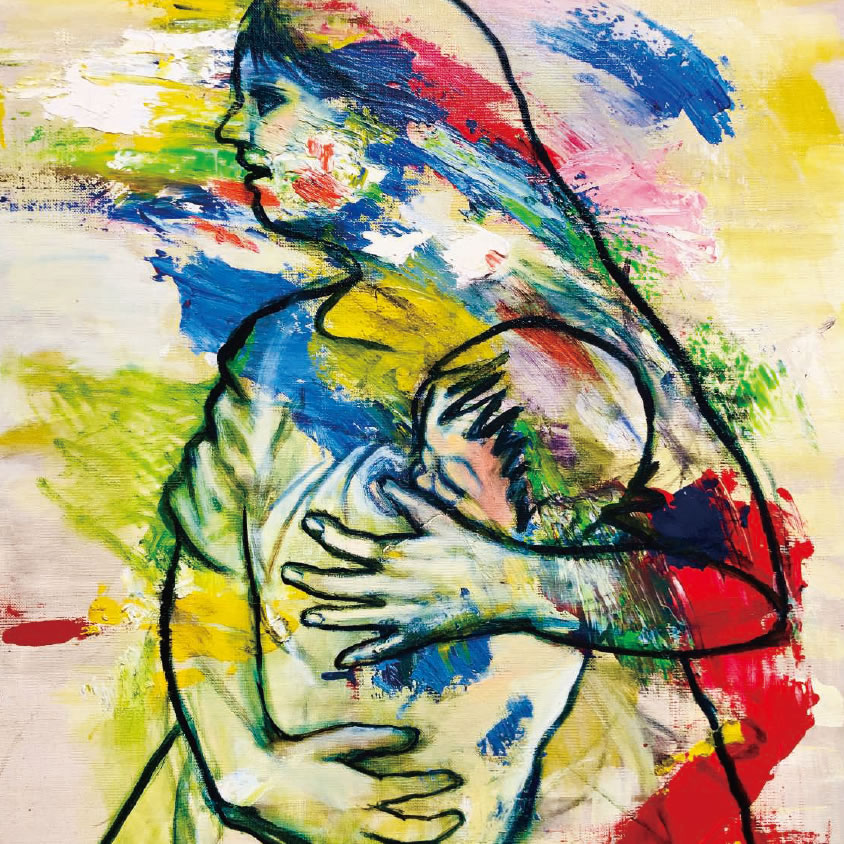 TAKUMI UEDA Mother, Child, Mermaid, Siren, Pandora.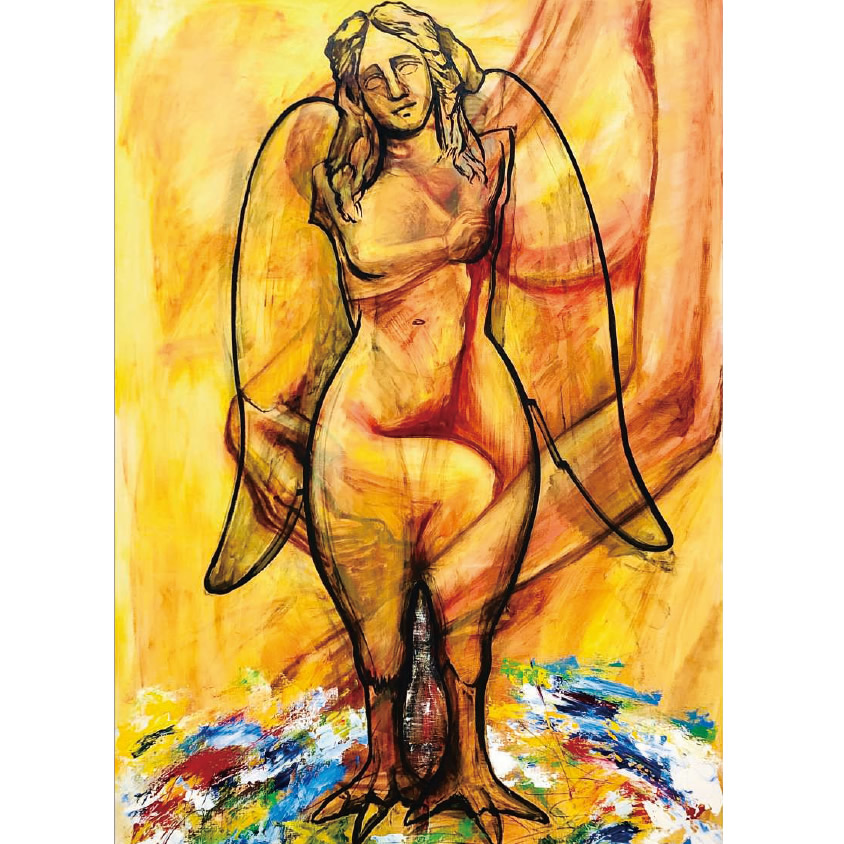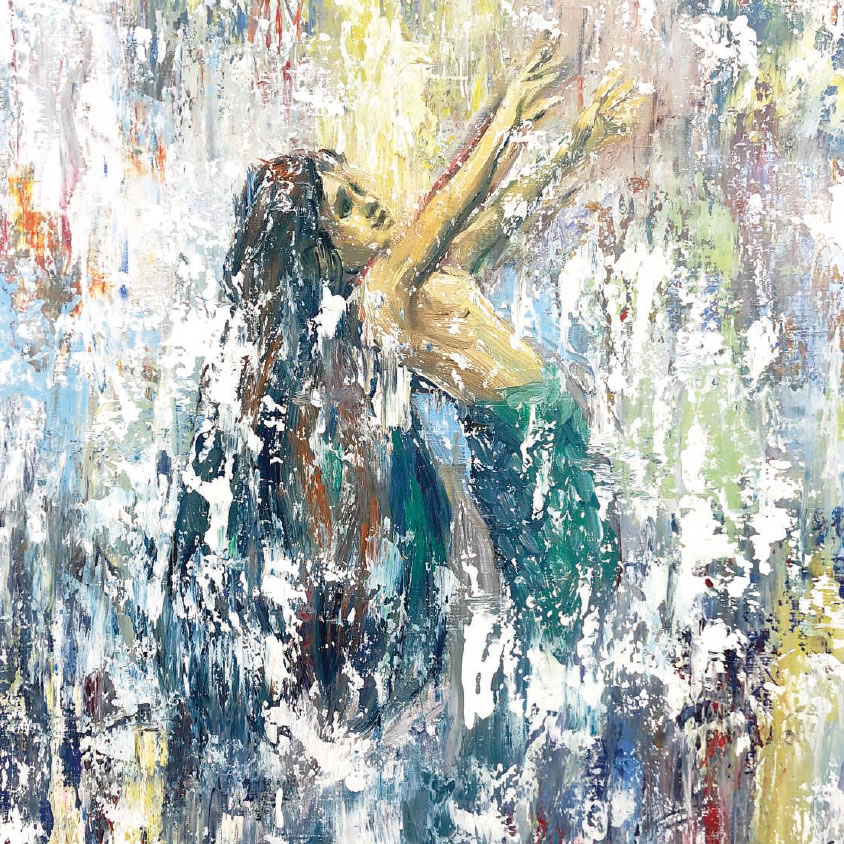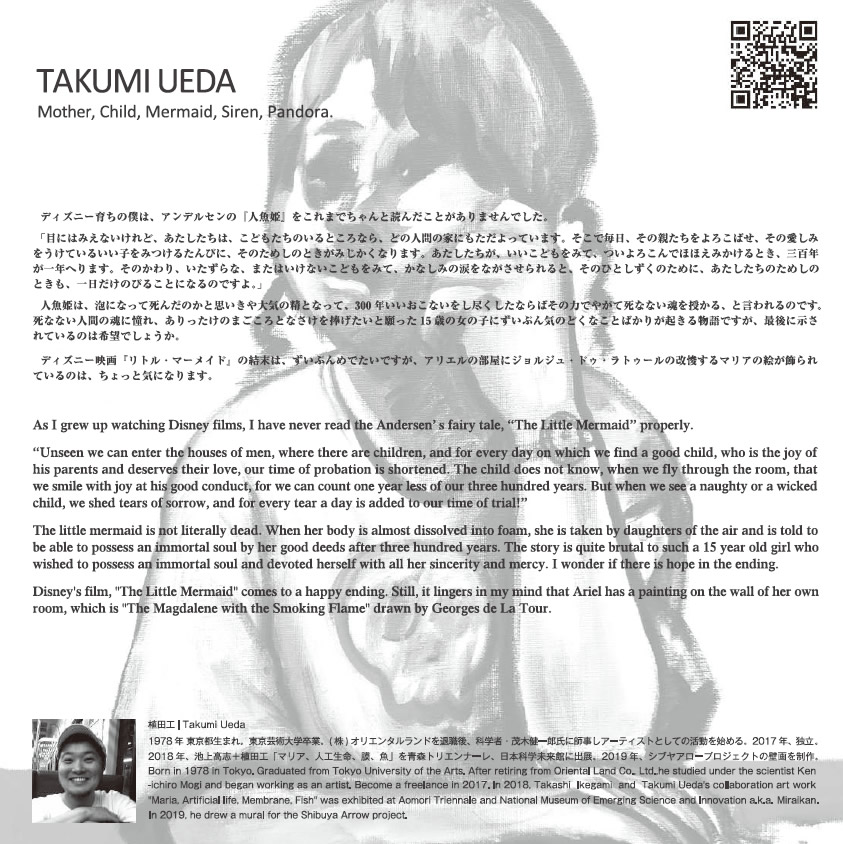 TAKUMI UEDA
Mother, Child, Mermaid, Siren, Pandora.
ディズニー育ちの僕は、アンデルセンの「人魚姫」をこれまでちゃんと読んだことがありませんでした。
「目にはみえないけれど、あたしたちは、こどもたちのいるところなら、どの人間の家にもただよっています。そこで毎日、その親たちをよろこばせ、その愛しみをうけているいい子をみつけるたんびに、そのためしのときがみじかくなります。あたしたちが、いいこどもをみて、ついよろこんでほほえみかけるとき、三百年が一年へります。そのかわり、いたずらな、またはいけないこどもをみて、かなしみの涙をながさせられると、そのひとしずくのために、あたしたちのためしのときも、一日だけのびることになるのですよ。」
人魚姫は、泡になって死んだのかと思いきや大気の精となって、300年いいおこないをし尽くしたならばその力でやがて死なない魂を授かる、と言われるのです。 死なない人間の魂に憧れ、ありったけのまごころとなさけを捧げたいと願った15歳の女の子にずいぶん気のどくなことばかりが起きる物語ですが、最後に示されているのは希望でしょうか。
ディズニー映画「リトル・マーメイド」の結末は、ずいぶんめでたいですが、アリエルの部屋にジョルジュ・ドゥ・ラトゥールの改俊するマリアの絵が飾られているのは、ちょっと気になります。
As I grew up watching Disney films, I have never read the Andersen's fairy tale, "The Little Mermaid" properly.
"Unseen we can enter the houses of men, where there are children, and for every day on which we find a good child, who is the joy of his parents and deserves their love, our time of probation is shortened. The child does not know, when we fly through the room, that we smile with joy at his good conduct, for we can count one year less of our three hundred years. But when we see a naughty or a wicked child, we shed tears of sorrow, and for every tear a day is added to our time of trial!"
The little mermaid is not literally dead. When her body is almost dissolved into foam, she is taken by daughters of the air and is told to be able to possess an immortal soul by her good deeds after three hundred years. The story is quite brutal to such a 15 year old girl who wished to possess an immortal soul and devoted herself with all her sincerity and mercy. I wonder if there is hope in the ending.
Disney's film, "The Little Mermaid" comes to a happy ending. Still, it lingers in my mind that Ariel has a painting on the wall of her own room, which is "The Magdalene with the Smoking Flame" drawn by Georges de La Tour.
Jodi Benson – Part of Your World (Official Video From "The Little Mermaid")
---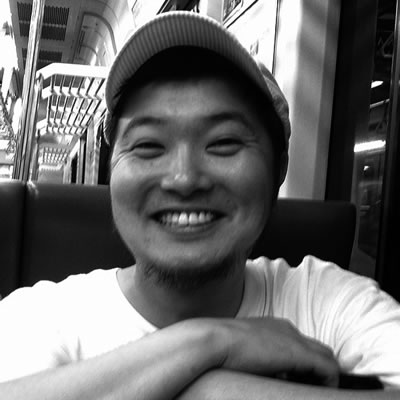 植田工 Takumi Ueda
1978年東京生まれ、東京芸術大学卒業。(株)オリエンタルランドを退職後、科学者・茂木一郎氏に師事しアーティストとしての活動を始める。2017年 2018年、池上高志+植田エ「マリア、人工生命、 魚」を トリエンナーレ、日本科学未来館に出展、2019年、シブヤアロープロジェクトの壁画を制作。
Born in 1978 in Tokyo. Graduated from Tokyo University of the Arts. After retiring from Oriental Land Co. Ltd..he studied under the scientist Ken -Ichiro Mogi and began working as an artist. Become a freelance in 2017. In 2018. Takashi Ikegami and Takumi Ueda's collaboration art work "Maria. Artificial life. Membrane. Fish" was exhibited at Aomori Triennale and National Museum of Emerging Science and Innovation aka. Miralkan. In 2019, he drew a mural for the Shibuya Arrow project.
---