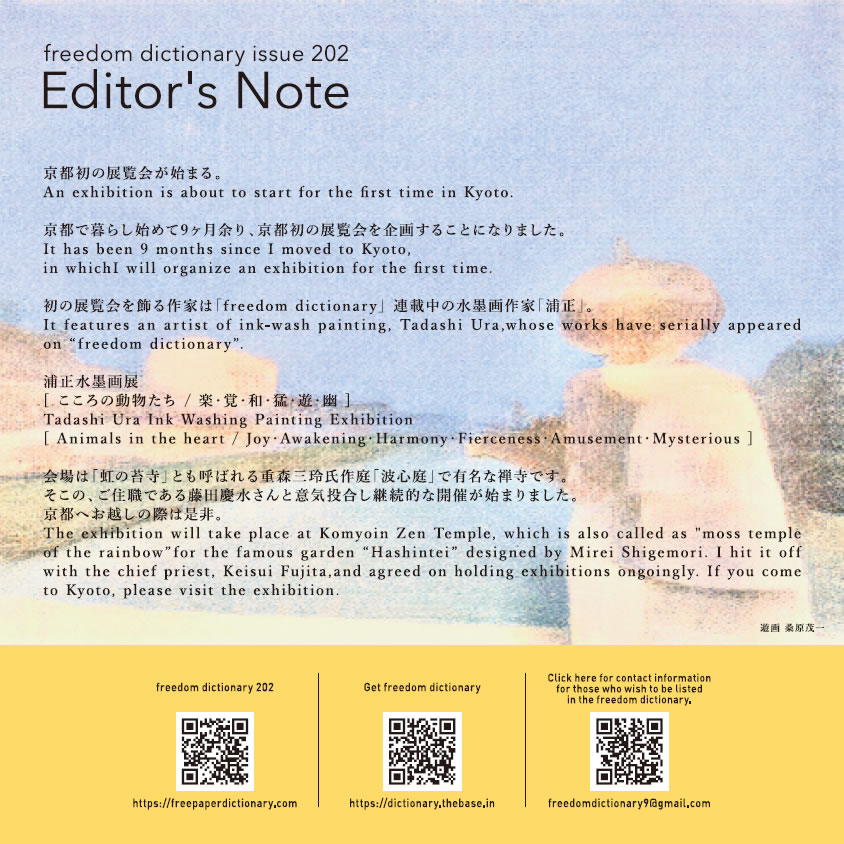 freedom dictionary issue 202 Editor's Note
京都初の展覧会が始まる。
An exhibition is about to start for the first time in Kyoto.
京都で暮らし始めて9ヶ月余り、京都初の展覧会を企画することになりました。
It has been 9 months since I moved to Kyoto, in which I will organize an exhibition for the first time.
初の展覧会を飾る作家は「freedom dictionary」連載中の水墨画作家「浦正」。
It features an artist of ink-wash painting, Tadashi Ura,whose works have serially appeared on "freedom dictionary".
浦正水墨画展
[ こころの動物たち / 楽・覚・和・猛・遊・幽 ]
Tadashi Ura Ink Washing Painting Exhibition
[ Animals in the heart / Joy. Awakening. Harmony. Fierceness. Amusement. Mysterious ]
会場は「虹の苔寺」とも呼ばれる重森三玲氏作庭「波心庭」で有名な禅寺です。
そこの、ご住職である藤田慶水さんと意気投合し継続的な開催が始まりました。
京都へお越しの際は是非。
The exhibition will take place at Komyoin Zen Temple, which is also called as "moss temple of the rainbow"for the famous garden "Hashintei" designed by Mirei Shigemori. I hit it off with the chief priest, Keisui Fujita,and agreed on holding exhibitions ongoingly. If you come to Kyoto, please visit the exhibition.
遊画 桑原茂一

---